HHCO GUMMIES SWEETS 10PC FRUIT MIX 250mg

-

HERO VAPE

-

HHCO GUMMIES SWEETS 10PC FRUIT MIX 250MG Fruity mix...

- Product GTIN :

3800236000570 -

Product Ref :

HERO-HHCO-GUMMIES-10PC

- Kategori :

HHC-O

- Price :

214.83

kr - Stock : In Stock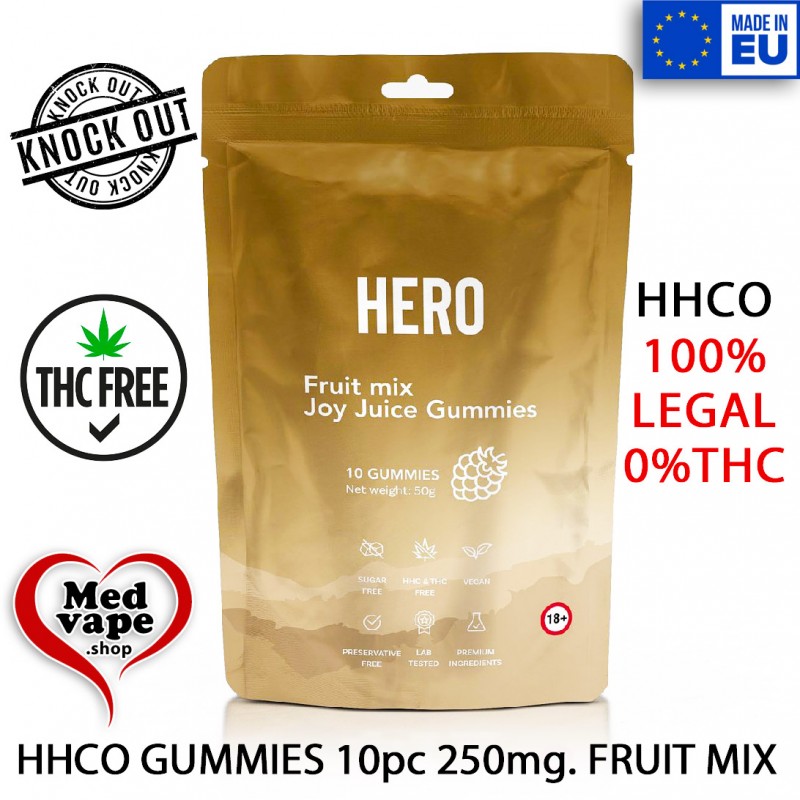  
HHCO GUMMIES SWEETS 10PC FRUIT MIX 250mg
HHCO GUMMIES SWEETS 10PC FRUIT MIX 250MG
Fruity mix gummies 10 pcs 250mg 0%thc, all organic natural products instock at Medvape.
Ingredients: 
Sugar, Corn Syrup, Pectin, Sunflower Oil, Water, Flavoring, Sodium Citrate, Sodium Acid Sulfate, Citric Acid, Natural and Artificial Food Coloring, 250mg HHCO, and Plant-derived Terpenes.
Extraction:
Hemp Derived
HHCO GUMMIES SWEETS 10PC FRUIT MIX 250MG
WHAT IS HHCO?
Exploring the Unique Properties of HHCO Cannabinoid
Experience the cutting-edge world of cannabinoids with HHCO, a remarkable and innovative addition to the realm of plant-derived compounds. HHCO cannabinoid, also known as HarmoniHexaCannabinol, stands as a testament to scientific progress and botanical exploration.
Unearthed from the heart of nature, HHCO is a cannabinoid that showcases a distinctive profile, setting it apart from other compounds within the cannabinoid family. Its molecular structure has been meticulously designed to offer a novel and synergistic interaction with the endocannabinoid system, which is present in all mammals.
HHCO has a  non-psychotropic nature ensuring that users can reap the benefits of this cannabinoid without the unwanted side effects often associated with other compounds.
What sets HHCO apart is not only its unique molecular structure but also the meticulous extraction and purification methods employed to obtain the purest form of this compound. Rigorous quality control measures ensure that each HHCO product maintains the highest standards of purity and potency.
Whether you're a wellness enthusiast, a practitioner exploring alternative solutions, or someone seeking a more balanced way of life, HHCO offers an avenue to delve into the world of cannabinoids like never before. Join us on a journey of discovery as we unlock the potential of HHCO and its promising applications for holistic well-being.
Dive into the future of cannabinoids with HHCO - where nature's wisdom meets scientific innovation.
NOTICE:
This products complies with Act No. 167/1998 §5.
Intended for the following purposes; industrial, technical and horticultural purposes.
Not intended for direct consumption or smoking.
This products is only for sale to persons over the age of 18 years.
These hemp-derived extracts here are 100% Completely derived from legal hemp.
Collectors Item Only
Kunder, der købte denne vare, købte også